Single Retorquer
April 23, 2021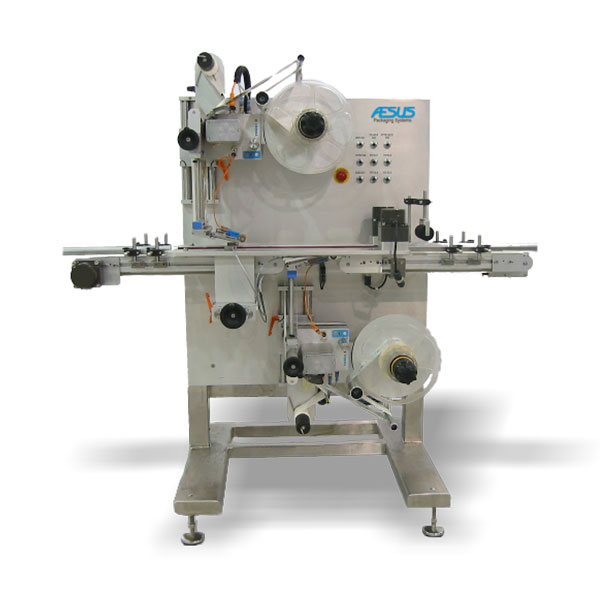 Delta Top and or Bottom Labeler
May 3, 2021
Aesus Delta Automatic Wrap Labeler
The Delta series of labellers have larger Cabinets heavier top plates and multiple adjustments X Y Z and Tilt. With speeds of 120 per minute or more the Delta-Wrap includes the powerful Servo label applicator head and a stainless steel enclosed base Cabinet with an anodized aluminum top plate, and a 9' long sanitary raised bed Stainless Steel conveyor.
Because of the larger cabinet and large heavy duty top plates the Delta labeller range can have printers, vision systems, barcode readers fitted to the label head, along with reject systems. The larger cabinet enables integrated control systems to be mounted within the Cabinet.
Typically equipped with an Allen Bradley plc (or equivalent) with touch screen sporting recipe management for easy recall of setups.
The machine comes complete with a variable speed product separation wheel and 4" Tall x 14" Long wrap belt as standard.
The heavy duty mounting plate is arranged conveniently along the length of the labeler so that it does not stick out into the aisle way.  It is solid to give extra rigidity for preferred mounting of Coders and vision systems.
Label head way beyond the rest
Years in development, engineers designed the definitive Servo controlled labeling system. Everything they and their Clients could think of over the last 103 years of Labeling history has been incorporated!!
Some of the features include…
No bulky control box or heavy interconnecting leads
Compact design Quick release core holders and take up roll.
Built in user friendly display screen.
Custom Servo control designed perfectly for label applications with appropriate ramp up and ramp down
Built in Encoder follower circuits to precisely follow a Conveyor or Rotary turret drives
Variable speeds and adjustable Gear ratios Start delays, stop delays, missing label advances, shift registers.
Patented Inductive label sensor that can mount right at the dispense blade to handle even Mylar labels, without the need to play with photo electrics which can dust up.
Patented moving dispensing beak to ensure that difficult labels are precisely dispensed
Hook ups for Printers, barcode readers, print engines
A Myriad of bolt on standard options are available to handle the most demanding challenges.
Quick Change Reels
An Exclusive feature is the twist on/twist
off Core and rewind holders.Just the faster label changes will
probably pay for your Head!
Maintenance
No proprietary components
Maintenance-free servo motors
Stainless steel and anodized aluminum construction
Just twist a knob and the core is released
to load fresh Labels. The same system
for the backing paper.