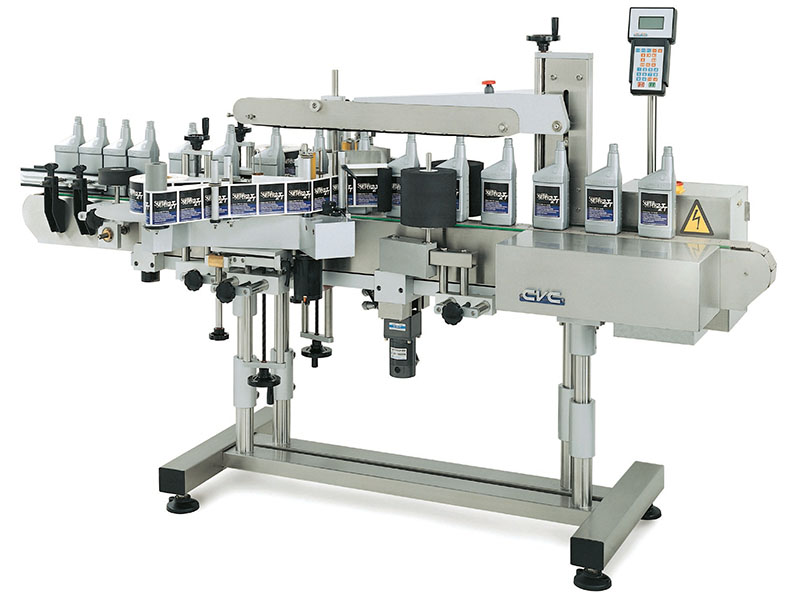 Model CVC400, Front/Back Labeler
April 22, 2021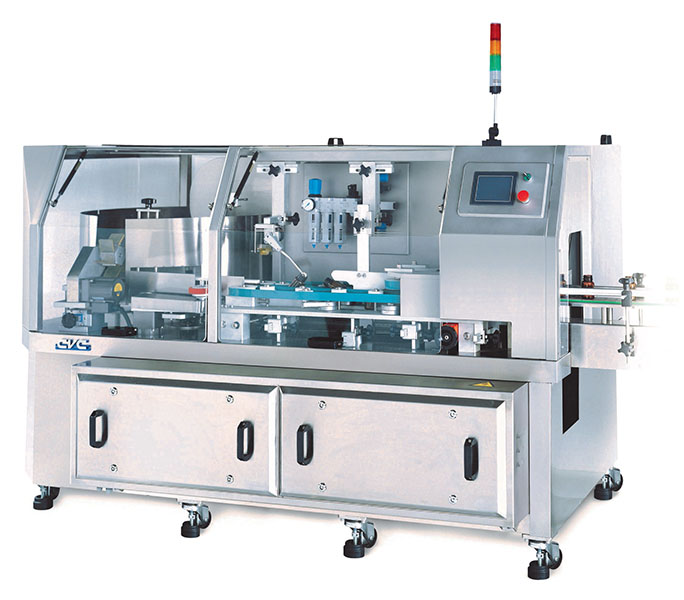 Model CVC1265, Bottle Unscramblers
April 23, 2021
Model CVC430, Front/Back Labeler with Wrap Station
The CVC430 Front & Back Labeler with Wrap Station is a dual purpose machine built to automatically apply pressure sensitive labels onto the front and/or back of containers and has a separate station for wrapping labels onto round containers. It can also be ordered with an optional assembly for applying a label to 3, 4, or 5 panels of a square or rectangular container. 3 Applications in 1 Machine! The 430 can be ordered with one or two labeling heads and is an ideal machine for contract packagers and manufacturers serving the food, nutraceutical, pharmaceutical, gas, oil, and personal care markets.
All CVC labelers include our patented Self Set™ software which utilizes a high frequency encoder for extremely easy setup and wrinkle free labeling at the touch of a button.
CVC430, Front/Back Labeler with Wrap Station Literature
Standard Features
Self Set Auto Adjusting Control System
Stainless Steel Frame on lockable casters
Stainless Steel flat bed conveyor with 3-1/4″ wide table top chain
25-Key Hand Held Terminal with LCD Display
Label head with up to ± 1/32″ accuracy and Integrated Wrap Station
Label Sensor for Paper or Opaque Labels
12″ Long Wrap Station
Product Sensor with Opaque and Clear Bottle Mode
Variable Speed Separator Wheel
Capacity: up to 175 bottles per minute (BPM)
ISO 9001:2000 Certified
Container Specifications
Bottle Height
2 to 16 in
51 to 406 mm
Bottle Width1
1/2 to 6-1/4 in
13 to 159 mm
Bottle Length
1/2 to 12 in
13 to 305 mm
1 Dependent on conveyor width.
Label Specifications
Label Width/Height
5/8 to 9 in
16 to 229 mm
Label Length
5/8 to 12 in
16 to 305 mm
Maximum Label Roll1
14 in
356 mm
Maximum Label Head Dispense Speed
23 m/min
1 Dependent on labeling head type.
2 Outside diameter with 3″ core
Machine Specifications
Conveyor Width
3-1/2 in (Standard)
6 in (Optional)
Conveyor Length
94-1/2 in (Standard)
Conveyor Bed Height
36 in (± 2 in) (Standard)
Machine Weight
324 kg
Air/Electrical Requirements
Power
110 V (Standard)
2230 V (Optional)
Phase
Single
Current
5 A
Air Consumption


Air Consumption
Only required when using Lot/Date Printer


4 ft3/min
Available Options
Printing


Printing
Hot Stamp (Lot/Date Coding)
Print Area: 2-3/4 in (70 mm) W x 2-1/2 in (65 mm) H
Type Sizes: 1.5 mm, 2.0 mm, or 2.5 mm
Chase Size: 6 Lines of 13-22 Characters each
Low Ribbon Sensor


Hot Stamp (Lot/Date Coding)
Integrated Thermal Encoder (Lot/Date, Bar Code and Graphics)
Assemblies
Adjustable Tilt for Tapered Bottles
Chain alignment
Clear Label Sensor
Feed Screw
Infeed and Outfeed Conveyor Extensions
Loading and Collecting Turn Tables
Low Label (Factory Installed Only)
Push and Press
Raised Sanitary Bed conveyor (Factory installed only)
Specification Notes
| | |
| --- | --- |
| Note | Dimensions shown are for standard machine. Conveyor can be extended or length may vary based on options selected. This labeler can run independently or be integrated into an automated packaging line. |