Single Retorquer
April 23, 2021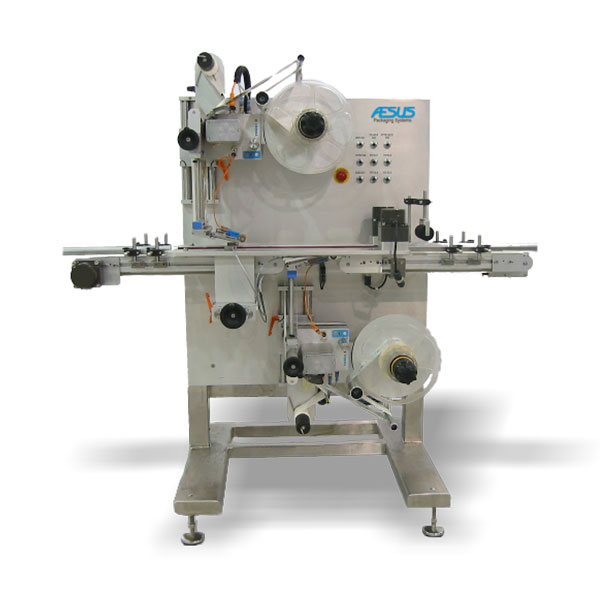 Delta Top and or Bottom Labeler
May 3, 2021
Rotary Hot Glue Labeler
All-round labelling with hot glue, in particular for PET-bottles – cost-effective and logical.
Labelling machines with unmistakable performance.
This fully automatic labelling machine was specially developed for economical wrap around labelling of glass, plastic and metal containers of various shapes and forms.
Wrap around labelling with pre-cut paper or plastic labels works without the involvement of a gluing drum. The hot melt is applied economically as spots onto the container through high pressure nozzles and the container takes the label directly from the magazine.
The final gluing is by a continuous vertical glueoff strip. Using this economical and clean gluing method means we save not only on change parts and components but also minimise the daily cleaning requirements.
Operation – precise and user friendly: The ROLLINA is very easy to use. The machine works continuously with easy handling and a minimum of operating costs. Changeover to other containers and label formats is quick. The closed hot melt system is absolutely low maintenance. The ROLLINA is complete with transparent, attractively shaped guarding and meets the highest accident prevention standards.
Easy changeover: The ROLLINA provides for exceptionally quick changeover to other bottle sizes. Apart from the guiding parts, there is only a timing belt pulley to change for another container diameter. The initial gluing is adjusted by a simple 2 way setting.
Speed range : 20 to 700 per minute. The labelling machines are customer driven solutions adapted to the speed and size. Hence we produce small and compact machines for lower speeds right up to high performance machines over a whole range of equipment configurations.
Labels: • Pre-cut paper labels • Pre-cut film labels
Containers: Glass, plastic, metal and molded containers
Gluing system: Hot glue
Benefits
• High machine reliability using brand name components for drive and control
• Carousel-type construction for accurate bottle guidance
• Space saving, compact construction
• Tried and tested premium technology hot glue labelling
• Comprehensive safety systems
Available Features
Firmly seated labels with very low glue usage
Hot melt is applied contact-free onto the container in spots with a hot melt unit through nozzles. These glue spots on the container pick off the label from the fixed label magazine. The final gluing is by a vertical gluing strip on the end of the label. Any foreign material ingress is effectively prevented because it is a closed system without glue recycling, thus minimising cleaning.
When there are different label heights, nozzles required for gluing are simply activated or deactivated.

Control of Bottle Plates
The control of the bottle plates varies with machine type.

Mechanically via cam segments…. or
With a timing belt that controls the rotation of the bottle plate.
or utilising Servo motors located at each bottle plate.

The latter allows a recallable program to rotate every container size to suit, ensuring perfect application of the labels for each set up.
Mechanical container aligner
The container aligner has special alignment systems to guarantee an exact alignment of the container.

Flexible and cost-effective

The labelling system can be easily and cost-effectively retrofitted for other bottle designs.
The rotary table is divided into segments so that labour-intensive changeover is no longer required, and often not all the cams need to be changed.
Bottle alignment, hot glue assembly and coders etc can be added at any time.
Label monitoring

Sensor based and/or a camera based system can check the presence and alignment of labels on containers of all types. Bottles where labels are incorrect can be rejected accordingly.