Single Retorquer
April 23, 2021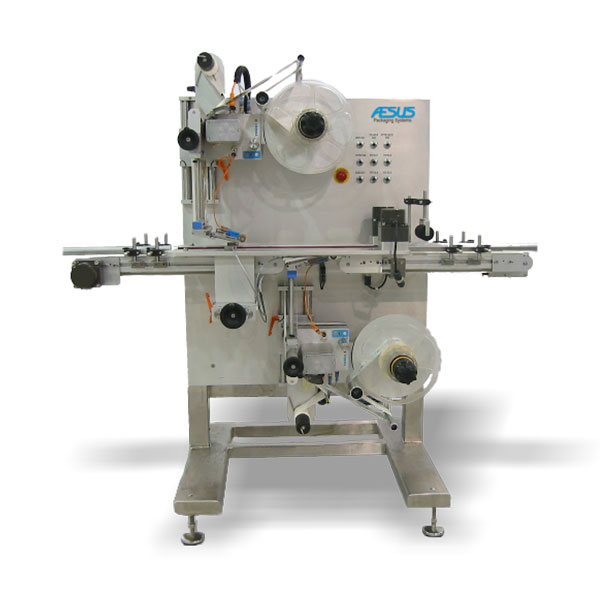 Delta Top and or Bottom Labeler
May 3, 2021
Aesus Delta Automatic Pouch and Bag Labeler
The Delta Pouch automatic labeler is versatile, allowing single side or dual side label application on empty pre-made stand-up pouches or bags. It is ideal for production environments that need to cater to a wide range of products on small batch runs.
Machine set-up
Recipe management from touch screen for all the electronic adustments
Label heads speed and start delays memorized by PLC (no sensor to move)
Central adjustment of the feeder guide rails with hand-wheel
Digital indicators or scale on mechanical adjustments
Operation
Easy to add pouch into the magazine while the machine is running
Label positions can be adjusted while the machine is running
Status of machine appears on touch screen
High label placement accuracy with servo label heads
Maintenance
No proprietary components
Maintenance-free servo motors
Stainless steel and anodized aluminum construction
Return On Investment
Cut your labor (or outsourcing) cost drastically
Reduce inventory of pouches
Increase flexibility and time to market for new products
Quick Change Reels
An Exclusive H400 feature is the twist on/twist off Core and rewind holders. Just twist a knob and the core is released to load fresh Labels. The same system for the backing paper. Just the faster label changes will probably pay for your Head!
Recipe Management
A touch screen is provided for all the electronic adustments; speeds and start delays are memorized by PLC and can be recalled from memory on the next run.
*Single sided Bag labeler
Ample Magazine
Magazine can be loaded while the machine is running
Sato, CAB or other printers
A printer attachment allows the labels to be pre-printed on the machine before applying them to the pouch.
Optional choices from Aesus
Date and Lot Printers
Laser Printers and Label presence sensors
Vision Verification
Total Count Sensor and others