Single Retorquer
April 23, 2021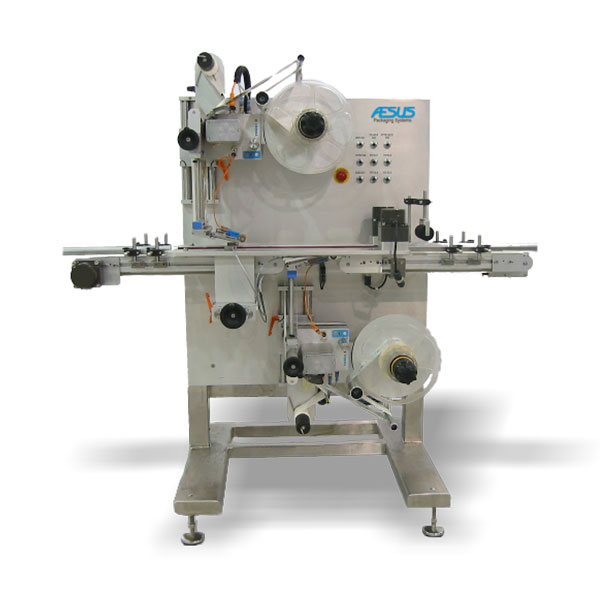 Delta Top and or Bottom Labeler
May 3, 2021
Rotary Combination Labeler
The perfect combined machine for frequent label and container changes. Combine any or all pressure sensitive/hot melt/wet glue all on one machine.
Easily service the multitude of demands from the beverage, food and chemical industries.
Combinations can be made from a selection of the following
Wet glue labelling from a magazine
Hot melt labelling from a magazine
Hot melt labelling from a roll
Self-adhesive labelling from a roll
Choices, choices, choices….
 Self-adhesive labelling from a roll
Our special self-adhesive H400 heads are well tried and tested designs for all speed ranges. Modern servo motors, up to 3, ensure exceptionally smooth running even at the highest speeds. The loop, guide and tension rollers ensure precise tracking of the label substrate right up to transfer. Using a patented sensor both paper and transparent plastic labels can be used. Hot glue labelling from a roll, without backing paper
This device delivers the label and cuts it from the roll onto the vacuum cutting drum, which transfers the cut label to a transfer drum. Here glue is sprayed sparingly in spots to both ends of the label.Hot melt labelling from the magazine
A special hot melt device applies hot glue spots contact-free onto the container through nozzles. These glue spots on the container take the label direct from the fixed label magazine. A glue bar carries out the gluing at the end of the label with a vertical strip. The rotating bottle, controlled by timing belts, rolls the label around the container and glues the end.Premium universal wet glue labelling The traditional cold glue labelling with pre-cut paper labels from the magazine uses our newly designed labelling unit; compact and hermetically sealed against penetration of condensate, it has all the benefits of our 1000 times tried and tested unit. In addition the rubberised glue pallets it is also equipped with an intelligent adjusting system for optimum glue pattern.
Advantages at a glance
Advantages of wet glue labelling • Low labelling costs • Processing of dry, damp and wet bottles • Easy use • Continual production by way of simply adding labels during operation • Economic continuous operation
Advantages of self-adhesive labelling • No cost of label format parts • Innovative, exclusive, label designs feasible • Shorter changeover times • Shorter cleaning and servicing times • Processing of No-Label-Look labels or water-resistant plastic labels
Advantages of hot glue labelling • Low labelling costs • Processing of dry, damp and wet bottles • Easy use • Continuous production by simply adding labels during operation • Economic continuous operation •
Available features
The H400 Head
– precise and self-reliant
The self-adhesive heads are tried and tested units for both slow and high speed ranges with up to 3 drives each plus loose-loop systems.
Modern servo motors ensure exceptionally smooth running even at high speeds. The intelligent label tracking and tension roller system ensures accurate and synchronized tracking onto the container even at varying speeds. Label transfer – accurately controlled
The phased transfer of the self-adhesive labels is synchronised to the frequency controlled machine speed which ensures accurate label transfer to the container at any speed. Integration of the programmable logic control ensures not only reliable operation but also provides the possibility of adding a whole range of options both standard and customer requested.
Changeover –
quick and easy
The machine control is easy to use on the ergonomic control panel. Simple repeatable manual settings for the individual self-adhesive heads can be carried out quickly and easily.
Optionally, the entire machine management can be displayed via a touch screen. Statistics are constantly displayed, as are performance details and causes of any fault. Special designs for continuous operation
Double roll holders are available with a vertical independent unit with a large loop buffer.
Alternatively we can integrate redundant heads for non stop label roll change.
This design with two self-adhesive heads for each label with pneumatically controlled in/out is a particularly excellent option. The label heads slide out for a comfortable exchange of label rolls while the machine continues to run.
Control of Bottle Plates
The control of the bottle plates varies with machine type.
Mechanically via cam segments…. or
With a timing belt that controls the rotation of the bottle plate.
or… utilising Servo motors located at each bottle plate.
The latter allows a recallable program to rotate every container size to suit, ensuring perfect application of the labels for each set up.
Mechanical container aligner
The container aligner has special alignment systems to guarantee an exact alignment of the container.
Flexible and cost-effective
The LABETTA labelling system can be easily and cost-effectively retrofitted for other bottle designs.
The rotary table is divided into segments so that labour-intensive changeover is no longer required, and often not all the cams need to be changed.
Bottle alignment, hot glue assembly and coders etc can be added at any time. Label monitoring
Sensor based and/or a camera based system can check the presence and alignment of labels on containers of all types. Bottles where labels are incorrect can be rejected accordingly.