Single Retorquer
April 23, 2021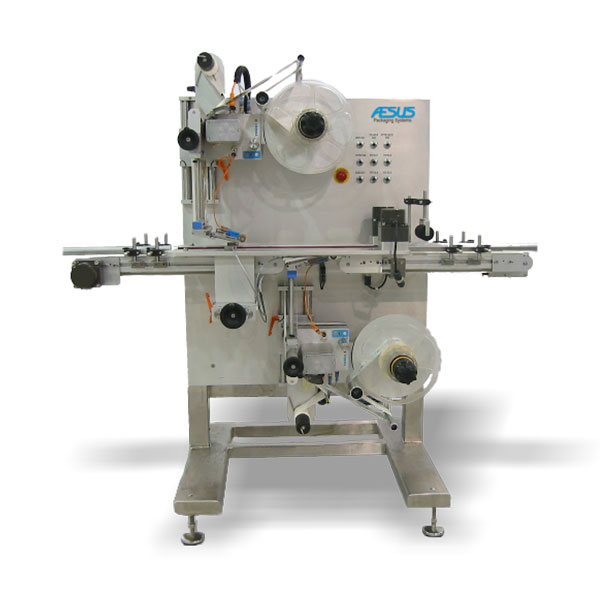 Delta Top and or Bottom Labeler
May 3, 2021
Rotary Pressure Sensitive Labeler
A labelling machine for efficient and highspeed self-adhesive labelling.
The modular design of our machine means that several H400 self-adhesive heads can be flexibly located around the bottle carousel and if required also a glue labelling station can be attached.
Labelling machines with unmistakable performance.
Each self-adhesive H400 Label head is provided with a high torque servo drive which is synchronised with the machine speed. The electronics are integrated in the operator HMI and PLC which directly triggers the Label head.
The required parameters for positioning the labels are easy to set either on the Label head or through the display.
Each self-adhesive Label head is an independent system with height, side and two angle adjustments each repeatable through a micrometer and scale. A pull out slide can be provided for each Label head for user friendly reel change and better machine accessibility.
The simple changeover to other formats and label positioning is easy to understand with a menu guide.
Speed range : 20 per min to 700 per minute. The labelling machines are customer driven solutions adapted to the speed and size. Hence we produce small and compact machines for lower speeds right up to high performance machines over a whole range of equipment configurations.
Containers: Glass, plastic, metal and molded containers
Gluing system: Individually or as a combination • Self-adhesive labelling • Wet glue labelling with cold or hot glue.
Benefits
• Accurate labelling by locating the container precisely between the bottle plate and the centring bell
• Container specific bottle plate turning mechanically or with servo control
• Several self-adhesive heads, modular positioning
• State of the art self-adhesive heads with precision servo motors
• Each self-adhesive unit self contained, individually controllable, dispensing parameters easy to set and repeatable
• Simple label positioning with 5-way head mechanical adjustment, reproducible
• Perfect no-label-look labelling
• Non-stop labelling possible
• Combination of self-adhesive dispenser with wet glue or hot melt units
Available features
  T he H400 Head – precise and self-reliant
The self-adhesive heads are tried and tested units for both slow and high speed ranges with up to 3 drives each plus loose-loop systems.
Modern servo motors ensure exceptionally smooth running even at high speeds. The intelligent label tracking and tension roller system ensures accurate and synchronized tracking onto the container even at varying speeds. Label transfer – accurately controlled
The phased transfer of the self-adhesive labels is synchronised to the frequency controlled machine speed which ensures accurate label transfer to the container at any speed. Integration of the programmable logic control ensures not only reliable operation but also provides the possibility of adding a whole range of options both standard and customer requested.
Changeover – quick and easy
The machine control is easy to use on the ergonomic control panel. Simple repeatable manual settings for the individual self-adhesive heads can be carried out quickly and easily.
Optionally, the entire machine management can be displayed via a touch screen. Statistics are constantly displayed, as are performance details and causes of any fault. Special designs for continuous operation
Double roll holders are available with a vertical independent unit with a large loop buffer.
Alternatively we can integrate redundant heads for non stop label roll change.
This design with two self-adhesive heads for each label with pneumatically controlled in/out is a particularly excellent option. The label heads slide out for a comfortable exchange of label rolls while the machine continues to run.
Control of Bottle Plates
The control of the bottle plates varies with machine type.
Mechanically via cam segments…. or
With a timing belt that controls the rotation of the bottle plate.
or… utilising Servo motors located at each bottle plate.
The latter allows a recallable program to rotate every container size to suit, ensuring perfect application of the labels for each set up.
Mechanical container aligner
The container aligner has special alignment systems to guarantee an exact alignment of the container.
Flexible and cost-effective
The LABETTA labelling system can be easily and cost-effectively retrofitted for other bottle designs.
The rotary table is divided into segments so that labour-intensive changeover is no longer required, and often not all the cams need to be changed.
Bottle alignment, hot glue assembly and coders etc can be added at any time. Label monitoring
Sensor based and/or a camera based system can check the presence and alignment of labels on containers of all types. Bottles where labels are incorrect can be rejected accordingly.