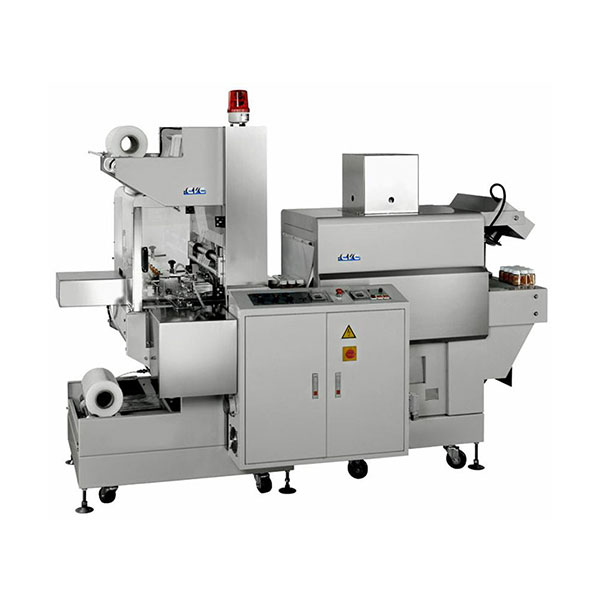 Model CVC1650/1651, Shrink Bundler & Heat Tunnel
April 23, 2021
Single Spindle Capper
April 23, 2021
Flex E Pack Flexible Packaging System
The Flex E Pack is the ultimate complete packaging system allowing for a single integrated system to handle all your case forming, packing and sealing needs. This type of solution is perfect for customers looking to automate their packaging lines beyond semi-automatic machinery, providing an easy, fast, compact and ergonomic solution. The standard system is designed for a 1 operator packing station but can additional packing stations can be added depending on your needs.
Customizability and Flexibility
Each section of the system can be customized or upgraded to your needs, ensuring that this is the right solution for you. This compact, "plug and play" system can fit in most operations and can handle a wide variety of case sizes. Both the case and product delivery conveyors can be customized based on your product and the number of operators required.
Standard Configuration
DEKKA 500 Fully Automatic Case Former

Reliable entry level fully automatic case former combines the traditional case former design with the industry leading performance engineered DEKKA SE tape head. If desired, this can also be upgraded to a Pin & Dome Wexxar Case Former.

Case Packing Station and Conveyor

The case packing conveyor is fully integrated with the case former to ensure a smooth transition between the packing station and the case former. An ergonomic foot switch is used to send the packed case into the sealer which also instructs the case former to make a new case for packing. The standard includes 1 pack station but can be upgraded to 2.

BEL 252 Fully Automatic Case Sealer

The extremely popular BEL 252 is renowned for its safety, reliability and quality. This machine delivers high levels of OEE with our exclusive Snap Folder System, and long lasting Uni-Drive belt motors. This sealer can also be changed to the glue sealing BEL 270 depending on the needs of your packaging.
Features
Complete Case Forming, Packing and Sealing System

Provides a simple and easy complete secondary packaging solution no matter what your case forming, and sealing needs are. Allows 1 (or 2) operators to perform case forming, packing and sealing functions quickly and efficiently.

Pack Control

Pack Control programming controls the entire system through the fully automatic case erector. This not only allows for a more synchronized pack process and also simplifies any troubleshooting or maintenance.

Ergonomic Activation

Industrial footswitch provides an ergonomic and efficient method of activating case conveyance.

Compact Design

The use of snap folders in our Wexxar Bel case sealing equipment minimize the overall system footprint while providing ultra-safe operation.

Available in Tape or Hot Melt

Both the case erector and sealer can be upgraded for hot melt sealing.

Quick 10 Minute Size Change

Size change can be performed easily and easily and some machines are even available in automatic case size changeover. On machine labels and instructions provide step-by-step size change guidance for newer operators.

WISE System

On-board machine tuning with pictorial representations when errors arise for quick identification and troubleshooting.
Options
Additional Packing Station

An extra packing station can be added to provide additional system throughput

Machine Management

Machine monitoring provides both an audible and visual alarm to advise operators of low glue/tape or low magazine to ensure continuous operation and avoid potential downtime

Many Machine Options

Each machine can be optioned or equipped to adapt to the needs of the application
Specifications (Standard System)
Speed

up to 10 CPM (cases per minute)

Construction

Premium welded frame with corrosion resistant materials including anodized aluminum and stainless steel for a paint free construction

Adhesion

Tape is standard (can be upgraded to hot melt)

Controls

HMI colour touchscreen interface